The APTC Evo Clutch represents the evolution of our APTC, the worldwide first assist and slipper clutch on the market.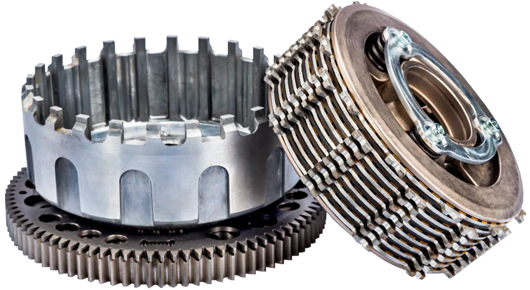 APTC Evo has an optimized design that requires 9 less components than a traditional clutch to be assembled.
Pressure plate and movable hub integrated in one piece
Elimination of hub-opening springs
Less clamping load required means less springs
Anticentrifugal ring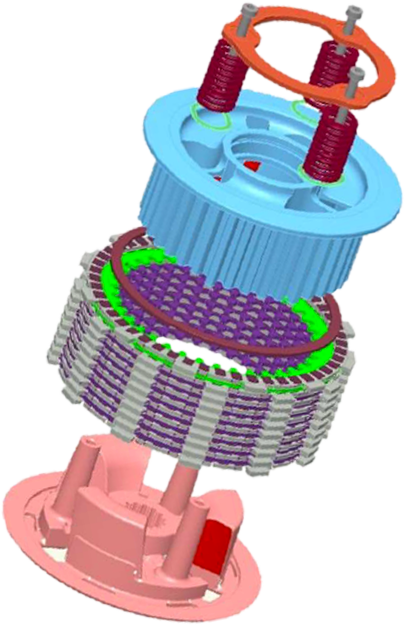 Main Features
Assist Feature: the assist feature of the APTC Evo is on the whole plate pack, allowing a reduction up to -65% of the clutch lever effort compared to standard clutches.
Optimized helical features layout: layout: maximized surfaces, more than double than main competitor. Minimized contact pressure, less wear and indentation.
Clutch Modulation: The new lubrication path on the assist feature surfaces is leading to a perfect modulation of the clutch at bike launch, to a smoother function of the clutch while riding and during anti-hopping operation. Premium class nichel + PTFE coating minimize the friction hysteresis and stick and slip operation of the clutch.
Pre-Assembled: The APTC Evo is supplied pre-assembled for a time saving and fool-proof installation (-40sec assembling time on production line).
High energy paper based friction materials
Friction coefficient 30% more than FOR-CA-007 and more than competitor.
Positive µ-V slope: no shudder, no noise.
Strong reduction of wear rate and oil contamination compared to FOR-CA-007.
Excellent thermal resistance and friction coefficient stability in temperature.
New friction paper tiles moulding process: improved local thickness constancy for reduced jerking effect in launch.
Optimized for high power density and light weight clutches.